Connect with your social network account
***** ALERT - Nominations for your new ClubCJ Committee can be made
here
*****
Moderators: Moderators, Senior Moderators
Genius

Posts: 8015
Joined: Sun May 29, 2011 9:35 pm
Location: Northern Adelaide, South Australia
Welcome to Club CJ! The VRX is a nice car!

---
VRX_08 wrote:Welcome to Club CJ! The VRX is a nice car!
You're not biased or anything are ya =P
2007 MY08 VR-X



I'm an eccentric smart-arse whose sarcasm has him perpetually in the s#@!.
---
Lancer Legend

Posts: 1106
Joined: Thu Mar 16, 2017 8:01 pm
Location: Sydney
Specifically the 08 ones

!
We are all in it for the fun!
---
Genius

Posts: 8015
Joined: Sun May 29, 2011 9:35 pm
Location: Northern Adelaide, South Australia
Quismiff wrote:

VRX_08 wrote:Welcome to Club CJ! The VRX is a nice car!

You're not biased or anything are ya =P
Not at all

---
Time flies, had the car a month and a half already!
Head unit display and controls decided to give up while reinstalling my Blackvue DR650S dash cam from the previous car. Pulled the radio fuse while I was sourcing accessory and constant 12V supply using fuse piggyback leads, but now have the fun issue of no display or controls unless the headlights are on. Will be going aftermarket when I get around to it. Piggyback leads aren't in radio fuse socket anymore, fuse is OK, searching seemed to suggest a fault with the front end of the radio unit.
Otherwise I've swapped red standard tail-lights for black...
... and refitted the rear VRX badge. Mitsubishi logo will go back on when I find one.
Found a set of 18x8 PDW Oasis rims to go on once I refurb them, bit of curb rash to weld up. Still deciding on final repaint colour(s) but have something in mind.
Also bought a new factory rear lip spoiler which will go on once it's repainted. Don't think Cool Silver will work on the red

---
I'm torn on the headlight colour, I like how the red blends in with the body work, but I also like how the smoke stands out... I noticed from the meet on the weekend the way different body colours look with the tail lights on the sports backs... How did you go with lining up the new badges? I was going to suggest a wooden template you could "stick" to the boot lid to help with lining up, but you had zilch to work with. maybe find a VR-X in a local Westfield carpark and try not to look too sus as you measure it up



Also not sure that counts as gutter rash, I think it's starting to stretch into gutter third degree burn territory

2007 MY08 VR-X



I'm an eccentric smart-arse whose sarcasm has him perpetually in the s#@!.
---
The red lenses didn't look like they belonged to me, like they were a bad attempt match to the paint colour. That or I'm just looking for reasons to change things

Badge went on fine, used the workshop manual dimensions, some painters tape to mark the edge it sits up against, and some vernier calipers to measure the distance from the edge of the panel. The carpark idea did cross my mind though... Have refitted badges to the back of my Subaru a couple of times and the painters tape method usually works well, as long as you step back and make sure they look straight before you press them on for good.
And yeah, that's one of the better wheels

. Think the previous owner took inspiration from this in their morning routine...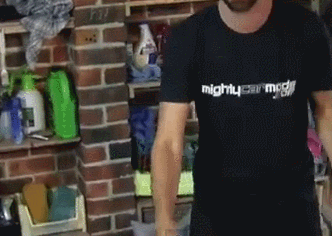 ---
Online

Lancer1993

Genius

Posts: 4603
Joined: Sat Dec 06, 2014 12:46 pm
Location: Caloundra
Contact:
Gotta love the MCM guys.

Still amazes me how many bad drivers there must be with cars hitting gutters. in over 20 years of driving I think I've done it many 2 times. When you continually hit gutters maybe its time for a driving lesson!
---
Updates
Mitsubishi star badge is back on the rear. I'm a bit torn - it doesn't look like it's had a cheap rear end repair anymore where they've not bothered with badges, but it still looks a bit too standard - I still have the rear lip spoiler to paint and fit. Not going to buy a rear diffuser or bumper but will look into some DIY options that don't involve garage door seals or Bunnings.
Audio is sorted, actually able to change songs while I drive again which is great! Reused my Kenwood KMM-BT303 head unit from my last car, a Stinger Toyota DIN pocket I had spare, and got a pretty decent deal on a Aerpro Fascia and wiring kit. Still about double the price of going the cheapest eBay options but happy to get something of decent quality. Rockford Fostagte factory sound system still works and steering controls are fine. Fascia was a better colour and texture match to the rest of the dash than the factory unit, the edge joining the airbag does stick out slightly though.
First time using DIN wiring harnesses which was nice, bit easier to install than what the last owner left me on my old Mazda. One speaker worked, standard plug was cut off, and it was only wired up to accessory 12V...
---
---
Who is online
Users browsing this forum: No registered users and 7 guests