Connect with your social network account
***** ALERT - Nominations for your new ClubCJ Committee can be made
here
*****
Moderator: Senior Moderators
Going to order an OEM diffuser (
https://www.lancershop.com/customer/ima ... =P&id=5899
)
soon so just thinking of how I would go about painting it. I want to achieve a matte black finish, just wondering which will provide more protection; normal black spray paint(w/o clear coat) or plasti dip? The diffuser will be coming in a black primer coat.
Last edited by
XTPN
on Fri Jan 15, 2016 7:40 pm, edited 2 times in total.
---
i`m a fan of the dip, easy to use, done in about 3 hours.
210 KWATW 400nm RALLIART
Virtual Dyno 1/1
http://goo.gl/GrUosm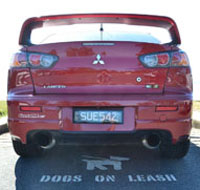 ---
---
---
Moderator

Posts: 1715
Joined: Mon Sep 30, 2013 8:28 pm
Location: Launceston, Tasmania, Australia
I use Dupli Colour Custom Wrap when I dip, I find it a lot nicer to use and it also lasts a lot longer than the Plasti Dip brand itself (Speaking from experience, not an expert)
It's all down to personal preference

Daily: My14 Lancer LX
Weekender: 2009 MY09 Ralliart Hatch
My Mod Thread:
viewtopic.php?p=324612#324612
Instagram:
http://instagram.com/mitsii_lx
---
---
Who is online
Users browsing this forum: No registered users and 1 guest