Background
Yes Round 2.3
Sorry for all the delays and false starts.
Please post up what you want based on the parts list below.
Prices won't stray far from this list.
Other charges:
The prices are all Ex-postage in QLD.
Order Charge = A$35 for WHOLE ORDER
Courier Charge = A$35 per delivery address, so a whole state could share that charge easily
Price list as follows.
If someone can get a better price, I'm listening.
This is NOT my usual supplier.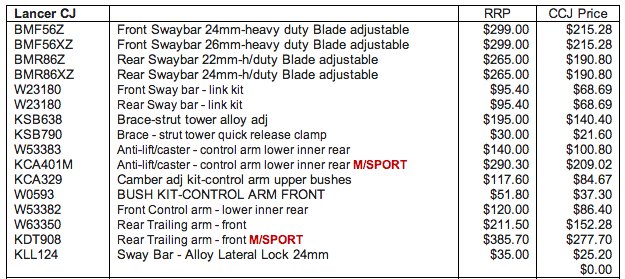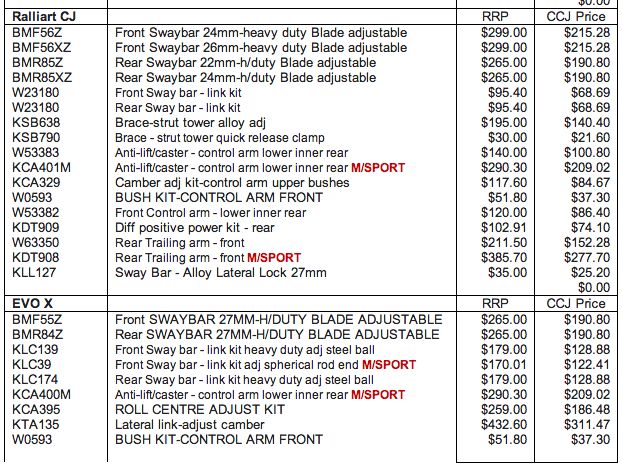 OK EOI in the form:
1. joebloggs STATE PARTS
GO... .
SAM-24A has done a brilliant post
here
from which I extracted the parts list.
OK so you should know what these do already. Now for the Group Buy.
I've still had many people ask about this and sponsors who want to sell this. Thus December's group buy will be for Whiteline Sway Bars.
EDIT:
I'm sorry I've deleted all your EOIs from the first time. Please EOI again. I've been very distracted this weekend.
On the flip side, I have a more complete price list of ALL whiteline parts on offer.
The prices shown are what's been quoted thus far with the numbers in bold what our sponsor is willing to sell them for: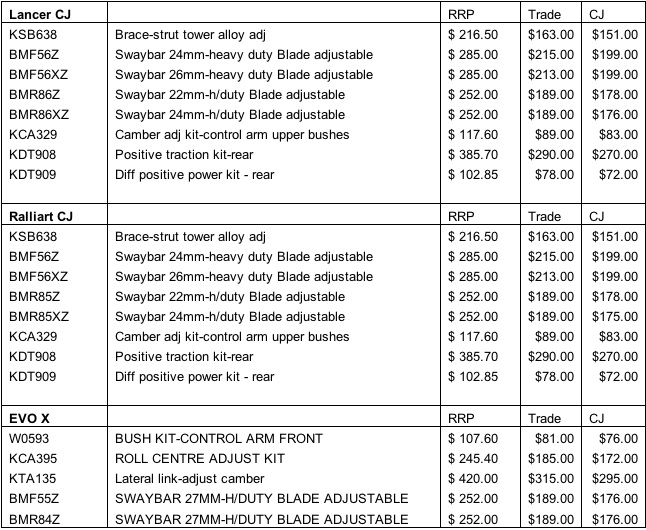 DELIVERY
Prices are Ex-delivery.
NOW confirmed. F.O.C. shipping to one address in each state. Can State mods PM me to organise? VIC obviously will be coming to me.
So who's up for some?
EOI List
VIC: PAID A$899.00
:
1. BMR86XZ - customundo = A$176.00 *PAID*
[s]2. BMF56XZ + BMR85XZ - El-diablo= A$374.00[/s]
3. KCA395 - PYLee = A$172.00 *PAID*
4. BMR86XZ - steve83 = A$176.00 *PAID*
5. BMF56XZ + BMR86XZ - Vlad_the_Impaler = A$375.00 *PAID*
NSW: PAID A$1,899.00
:
1. KSB638 - ScraverX = A$151.00 *PAID*
2. BMF56XZ + BMR86XZ - MiztaB = A$375.00 *PAID*
3. BMR86XZ - Hoges = A$176.00 *PAID*
4. BMF56XZ + BMR85XZ - BeHaV3 = A$374.00
5. BMF56XZ + BMR85XZ - spareparts = A$374.00 *PAID*
6. BMR85Z + BMF56Z + KDT909 - Griffin = A$449.00 *PAID*
QLD: PAID A$824.00
[s]1. BMF55Z + BMR84Z - mr_evo = A$352.00[/s]
2. BMF56Z + BMR86XZ - 86MlM = A$375.00 *PAID*
3. BMF56Z + BMR86Z - beforethevision = A$377.00 *PAID*
4. KDT-909 - whitenight = A$72.00 *PAID*
SA: PAID A$353.00
1. BMR86XZ - luffy4688 = A$178.00 *PAID*
2. BMR85XZ - Billy Boy = A$175.00 *PAID*
[s]3. BMR84Z + KCA395 - Red Evo X = A$348.00 *PAID*[/s]
WA: PAID A$748.00
:
1. BMF56Z + BM86XZ - itachi = A$374.00 *PAID*
2. BMF56Z + BMR86XZ - AOTR = A$374.00 *PAID*
EOI LIST GB Rd 2.3
VIC
NSW
SA
WA
QLD