Connect with your social network account
***** ALERT - Nominations for your new ClubCJ Committee can be made
here
*****
Moderators: Moderators, Senior Moderators
---
---
---
---
Lancer VR/GT

Posts: 293
Joined: Mon Aug 01, 2011 5:47 pm
Location: Perth, Australia
Hey...I know the car who put a dent on my BRAND SPANKING new car that I had just waxed that same morning!!
Hmmmm....stunt driving school!! *enter maniacal laughter!*

---
Lancer VRX/GTS

Posts: 446
Joined: Thu Feb 10, 2011 9:57 pm
Location: Sydney, Australia
I should have done this to the guy who put a ding on my car only 2 days after I took delivery of it!

Too bad I'm not that imaginative.. great find.
---
---
Lancer VRX/GTS

Posts: 477
Joined: Wed Feb 16, 2011 10:34 am
Location: Gloucester, NSW
AdamSmith wrote:I had one left on mine following a dent to the front bumper (was an old shitbox Cordia) simply stating [b:9e33bdcfe8]Im leaving this note so the old lady watching me thinks you will have my details[/b:9e33bdcfe8]
Now that one could come in handy...............
---
The best one I saw:
These two cars had come into contact, and the driver at fault, just gave them a random business card and took off!!!
I now carry random business cards...
Mine's quicker then yours!!!

Range Rover Sport 2014-
2013 WRX: 2013-
2009 Lancer: 2010-2013
2003 Astra: 2008-2010
---
Lancer Newbie

Posts: 69
Joined: Wed May 09, 2012 2:25 am
Location: Sydney. Australia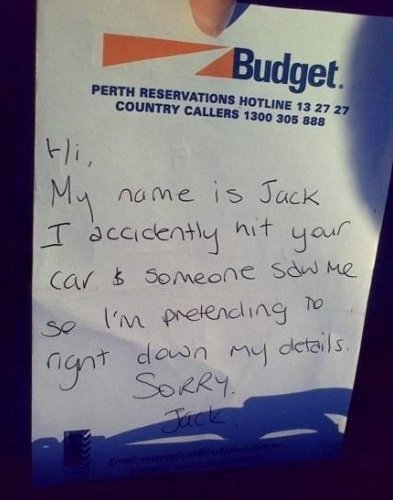 Old enough to know better, still too young to care.
__________________________________________

You can have it:
Fast
Cheap
Reliable

Pick any two.
__________________________________________
---
---
Who is online
Users browsing this forum: No registered users and 1 guest