Connect with your social network account
***** ALERT - Nominations for your new ClubCJ Committee can be made
here
*****
Moderators: Moderators, Senior Moderators
Lancer Ralliart

Posts: 554
Joined: Tue Nov 04, 2008 4:02 am
Location: Perth, WA, Australia
Last edited by
aussie027
on Thu Aug 23, 2012 2:35 pm, edited 6 times in total.
---
Lancer MASTER

Posts: 1602
Joined: Thu Dec 04, 2008 11:36 am
Location: Kariong, NSW, Australia
Good stuff
+1
>CLICK HERE to view My 08 Lancer in all its Glory!
"Its STILL happy go fun fun time!"
---
Also, a lot of the overseas market models vary from what we get in Australia.
For example, we get different tyres and spec, and increased sound dampening. There's more differences than that though.
Good idea to list a lot of reviews in one place.

---
Lancer Legend

Posts: 1170
Joined: Tue Dec 09, 2008 8:56 am
Location: The People's Republic of Campbelltown
The 2.4ltr engine upgrade in 09 spec VRX has also made a difference. There was only one VRX review that mentioned the newer engine. They get up and boogie quite nicely and at the moment with a brand new engine (800-odd km only), my one is averaging only 7.3 ltrs/100km - not bad at all.
ClubCJ's first Sportback
---
---
---
---
Lancer Ralliart

Posts: 662
Joined: Wed Apr 08, 2009 5:36 pm
Location: Mt Druitt, NSW, Australia
the voices may not be real, but they have some pretty good ideas

:D
..... If streets could talk they would Beg For Mercy!!! 151.6kw & 330nm @ all 4 paws .....
---
Lancer Ralliart

Posts: 554
Joined: Tue Nov 04, 2008 4:02 am
Location: Perth, WA, Australia
Here is a list of recent reviews and some from a yr ago.
New MY09 models, eg 2.4L VRX etc.
Enjoy.
http://www.caradvice.com.au/car-reviews/#mitsubishi
Here are some US reviews that have interesting technical info in them that are not normally mentioned in car reviews.
http://www.topspeed.com/cars/mitsubishi ... 17486.html
http://www.topspeed.com/cars/mitsubishi ... 84225.html
The above site also has reviews on different Evos and the RA.

Latest review of 2012 VRX-
http://www.carshowroom.com.au/newcars/r ... _Road_Test
I FIND YOUR LACK OF FAITH DISTURBING......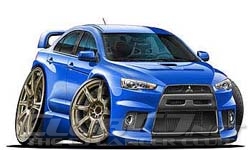 ---
---
Who is online
Users browsing this forum: No registered users and 2 guests