Connect with your social network account
***** ALERT - Nominations for your new ClubCJ Committee can be made
here
*****
Moderators: Moderators, Senior Moderators
Lancer Newbie

Posts: 49
Joined: Sat Jul 12, 2014 9:51 am
Location: Buderim, Sunshine Coast, Australia
Hi Everyone,
Just curious if anyone has used carmate for headlights? Also has anyone used these sort of headlights? Below is a link to the page of the headlights. All opinions are wanted.
http://www.carmate.com/product_details. ... BLKLEDAEHL
If you think these are bad could you suggest an alternative.
Cheers Damon
---
---
Moderator

Posts: 1715
Joined: Mon Sep 30, 2013 8:28 pm
Location: Launceston, Tasmania, Australia
Also check out Mars performance

Daily: My14 Lancer LX
Weekender: 2009 MY09 Ralliart Hatch
My Mod Thread:
viewtopic.php?p=324612#324612
Instagram:
http://instagram.com/mitsii_lx
---
Lancer Newbie

Posts: 73
Joined: Sat Feb 01, 2014 6:40 pm
Location: Sydney, Australia
One of our member tried buying that but ended up getting the dotted ones instead and that carmate had said they were out of stock of those ones.
---
---
---
Moderator

Posts: 2739
Joined: Thu Dec 13, 2012 4:16 pm
Location: Sydney Australia
Mars performance have the brightest ones. Don't be fooled by the pictures. They may not seem as bright in real life as they do in the pictures.
They will learn... I will always be a step ahead

No longer an active member.
---
---
---
Lancer Newbie

Posts: 49
Joined: Sat Jul 12, 2014 9:51 am
Location: Buderim, Sunshine Coast, Australia
Next question haha. Were they easy to install, obviously you have to take the bumper out, but are they easy to connect in? Also did you put the LED's as Daytime Running lights or as parkers?
---
Personally I wouldn't run 55w HID's on headlights with plastic lenses... but that;s just me
AK 3" Single tip exhaust | 18x9 CST Zero 1 Hyper wheels |BC-BR Coilovers | UR UICP | Synapse DV | 3-pod A-Pillar | Adj. rear camber & toe arms | AK Aluminium undertray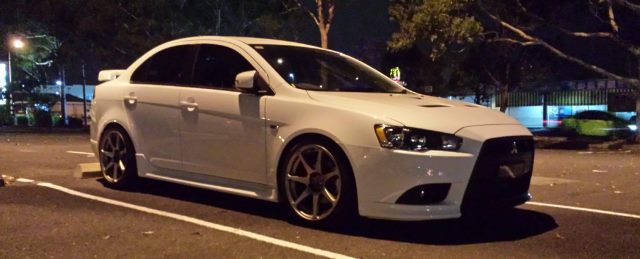 ---
---
Who is online
Users browsing this forum: No registered users and 2 guests