Connect with your social network account
***** ALERT - Nominations for your new ClubCJ Committee can be made
here
*****
Moderators: Moderators, Senior Moderators
we all love a car with a good note and most of us have an aftermarket exhaust, be it shop bought or custom.

i know some of us already have audio on youtube but i know capturing a note under load can be difficult.

so a competition for BEST IDLE NOTE.

first and only prize is a $50 fuel voucher or premium membership, bearing in mind the premium memberships includes the new CCJ T shirt and club decal.

so have at it, we`ll run it for two weeks then poll the members.
Last edited by
sleeper
on Mon Feb 08, 2016 6:23 am, edited 1 time in total.
210 KWATW 400nm RALLIART
Virtual Dyno 1/1
http://goo.gl/GrUosm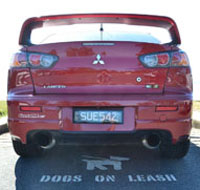 ---
on this thread, just post your youtube link here

Last edited by
sleeper
on Sun Feb 07, 2016 6:00 pm, edited 1 time in total.
---
---
good luck Luke

---
---
heres mine to get the ball rolling.

[youtube]http://www.youtube.com/watch?v=ZS6vt5uyvrc[/youtube]

get the idea?
---
Greddy Cat back, from when i first bought the car, still love it

[youtube]http://www.youtube.com/watch?v=awrLJn0ApFM[/youtube]
My EVO (X MR) progress:
http://clubcj.net/viewtopic.php?p=328713#328713
4 cylinders, 3 diamonds, 2 litre, 1 turbo, 0 reasons to buy anything else
ROTM WINNER SEPT 2014
---
---
[youtube]http://www.youtube.com/watch?v=UVP-VtWGVu0&feature=youtu.be[/youtube]

My Zena girl, custom 3" turbo back exhaust with high flow cat and Xforce muffler and tips
turbogirl

Member's Liaison Officer

Executive Team



In debt and loving it
---
---
Who is online
Users browsing this forum: No registered users and 1 guest