Connect with your social network account
***** ALERT - Nominations for your new ClubCJ Committee can be made
here
*****
Moderators: Moderators, Senior Moderators
INACTIVE Member Account
Posts: 3
Joined: Sun May 31, 2009 11:38 am
Location: Sydney, NSW, Australia
Hey Geezers, I was in the silver XR5 that came along to the Sydney South cruise on Sunday (well part of it anyway)
Here's some pics of my car. I 'll post up the pics from the cruise now too.
Cheers
lats
Damn gutters!!!
---
Genius

Posts: 6953
Joined: Sun Mar 08, 2009 8:54 pm
Location: Melbourne, VIC, Australia
Contact:
Welcome to the club mate. When buying my car i seriously considered the focus. Not the XR5, as much as i would want one, i was lookin at the standard focus.
Got a question? Read the
ClubCJ Ultimate Guide
First!!
Just...Dont worry about it

Dont Click Me
---
INACTIVE Member Account
Posts: 797
Joined: Tue Jan 27, 2009 2:59 pm
Location: Sydney, NSW, Australia
nice to see you on here was good to have u on my tail in natio ;P
Red Tail-light Brigade Member #2
---
dumb&
Welcome aboard mate. Whats the deal with the car backfiring, was kinda off putting when I finally caught up to you guys in the national park
---
INACTIVE Member Account
Posts: 3
Joined: Sun May 31, 2009 11:38 am
Location: Sydney, NSW, Australia
Its just one of the quirks with the XR5, they bang when you short shift on upchange, and they bang on downchanges
Its louder with an exhaust, but you should hear it with a turboback!
edit - hey I forgot to mention, we've lined up a night to go to WSID. 10th June, if anyone's interested.
More details can be found here, but you need to joinup, so come and say hello
http://www.fordxr5turbo.com/forum/index ... cseen.html
---
---
Lancer Legend

Posts: 1170
Joined: Tue Dec 09, 2008 8:56 am
Location: The People's Republic of Campbelltown
Hey Latso, welcome to ClubCJ -
I have a turbo Focus
*
as well for my work car

Rockin' cars - they go really well and I like the interior quite a bit (not as much as the Lancer I have though

).
I hope to see more of your car around. I reckon they look tops and I would have probably bought another one but my wife not too happy with the 6 spd gearbox. Looking forward to seeing more with the new front getting around, they look great.
*
TDCi LOL
---
---
---
Welcome along Latso ClubCJers are a pretty good mob

Australasian Gerbil Rearers Organisation, Official Re-Seller.
MY09 Rally Red VRX ClubCJ's 1st 4B12 2.4L
-
CCJ Lifetime Member #0004.
Merlinised....
---
Post Monster

Posts: 2869
Joined: Wed Jun 03, 2009 12:23 am
Location: Fines City, VIC, Australia
Focus XR5T, a worthy Ralliart rival. It's a great ride with a Volvo engine, also among my choices if I had extra.
/////
/////
7 airbags
6-speed SST
5-star safety
4-wheel drive
3-diamond badge
2 overhead cams
1 awesome ride
0 demerit points and gutter rash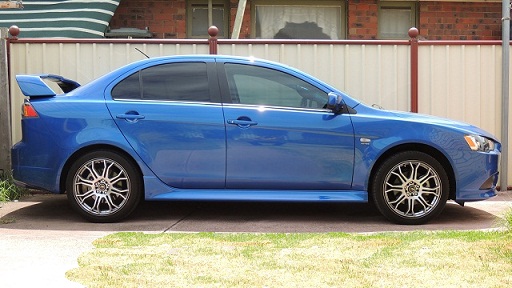 ---
---
Who is online
Users browsing this forum: No registered users and 12 guests